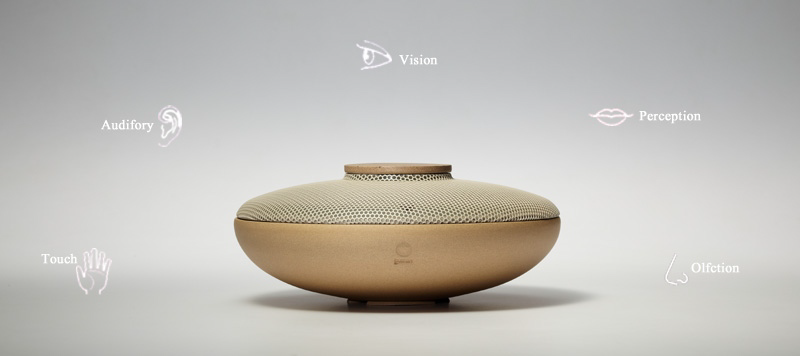 The human body's five senses: touch, auditory, vision, perception, and olfaction, has inspired the "Five Sense Experience" starting in the 1990s, which created new architectural aesthetics of space. The five senses have inspired many designs allowing the public to experience the display in an entirely different perspective of shape, color, lighting, layout, materials, and texture, so the viewer receives a better physical and mental feeling from the design. These feelings allow the audience to appreciate the greater ideological, psychological, and behavioral effects, which is the key to design in our opinion.
The ancient Chinese have integrated the five senses into their Chinese lifestyle as far back as 4 to 5 thousand years ago. From this ancient Chinese wisdom, Puzhen Life's health and wellness products were born. The five senses are the muse of Puzhen Life's products, especially the Five-Sense Aroma Diffusers for aromatherapy, designed to evoke all five senses of the human body, bringing you a balance in life.
These diffusers were designed combining traditional Chinese craftsmanship, philosophy and aesthetics with modern science, creating a higher quality living environment. Our unique aromatherapy diffusers were crafted using the ancient concept of harmony between human and nature, which is deeply connected to the "Five Senses Experience."
This full body experience is condensed into life-changing aroma diffusers for you to place in the corner of your room, so you are deeply moved. Embrace the five senses, ancient Chinese lifestyle, and feel relief from stress and anxiety with high quality aromatherapy products that match any home decor and can be used with any essential oil.
Shop Puzhen's Aroma Diffusers on Sale via Amazon plus FREE Shipping! http://amzn.to/tSJBzJ